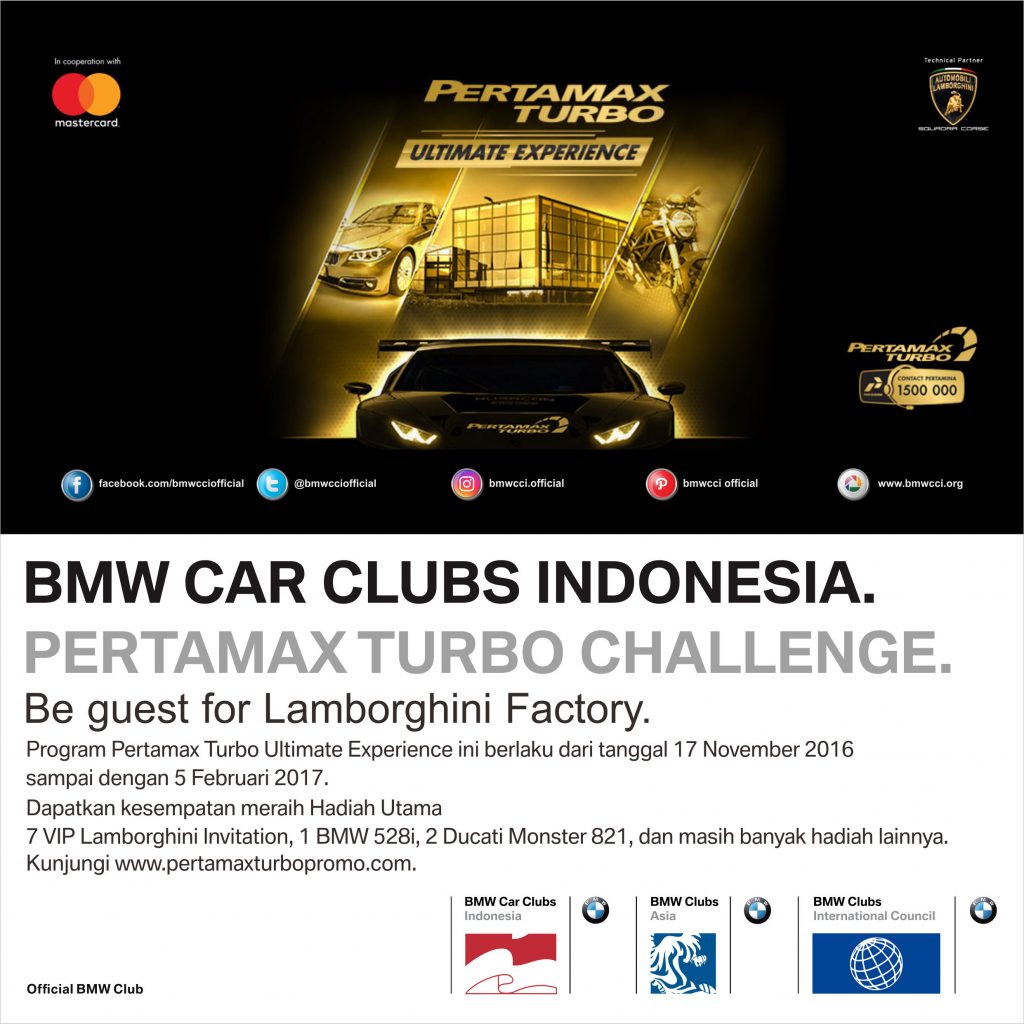 BMW CAR CLUBS INDONESIA.
Good rider for Pertamax Turbo.
Fill Pertamax Turbo and be guest Lamborghini factory.
Program Pertamax Turbo Ultimate Experience ini berlaku dari tanggal 17 November 2016 sampai dengan 5 Februari 2017.
Dapatkan kesempatan meraih hadiah utama
1. 7 VIP Lamborghini Invitation.
2. BMW 528i.
3. Ducati Monster 821.
dan masih banyak hadiah lainnya.
Kunjungi : http://www.pertamaxturbopromo.com/
Pelanggan yang melakukan pembelian Pertamax Turbo minimal Rp. 200.000,- (dua ratus ribu rupiah) untuk mobil atau Rp. 25.000 (dua puluh lima ribu rupiah) untuk motor di seluruh SPBU indonesia yang menjual bahan bakar Pertamax Turbo akan mendapatkan 1 struk pembelian (print out); berlaku kelipatan.
Konsumen dapat mengikuti undian lebih dari satu dengan struk yang berbeda.
Daftarkan diri dengan cara memasukkan data identitas diri, alamat email, no HP, dan no STNK.
Masukkan data:
– Nomor SPBU
– Nama Operator
– Tanggal Pembelian
– Nominal Pembelian
Pilih cara pembayaran yang telah digunakan, menggunakan cash atau kartu debit/kredit Mastercard atau pembayaran lainnya.
Simpan struk pembelian Pertamax Turbo untuk validasi data.
(*ini bagian paling penting untuk jadi pemenang).
Supported by :
• Pertamax Turbo Ultimate Experience.
Technical partner :
• Lamborghini Squadra Corse.
In coorperation with :
• Mastercard.
BmwcciOfiicial.
#Bmw #Bmwcci #Bmwcciofficial #BMW528i
#PertamaxTurboPromo #PertamaxTurboUltimateExperience #PerfectionInPerformance #PertamaxTurbo #RaiseTheBar